I wanted to meet some hot black chicks in my area so I spent time searching for a local black dating site to join. I came across BlackCrush and was intrigued. BlackCrush is an ebony dating site that is focused on finding a match for black singles who want to find someone to date or have a one night stand. There are a few dating sites that are known for being particularly successful in this niche because they work.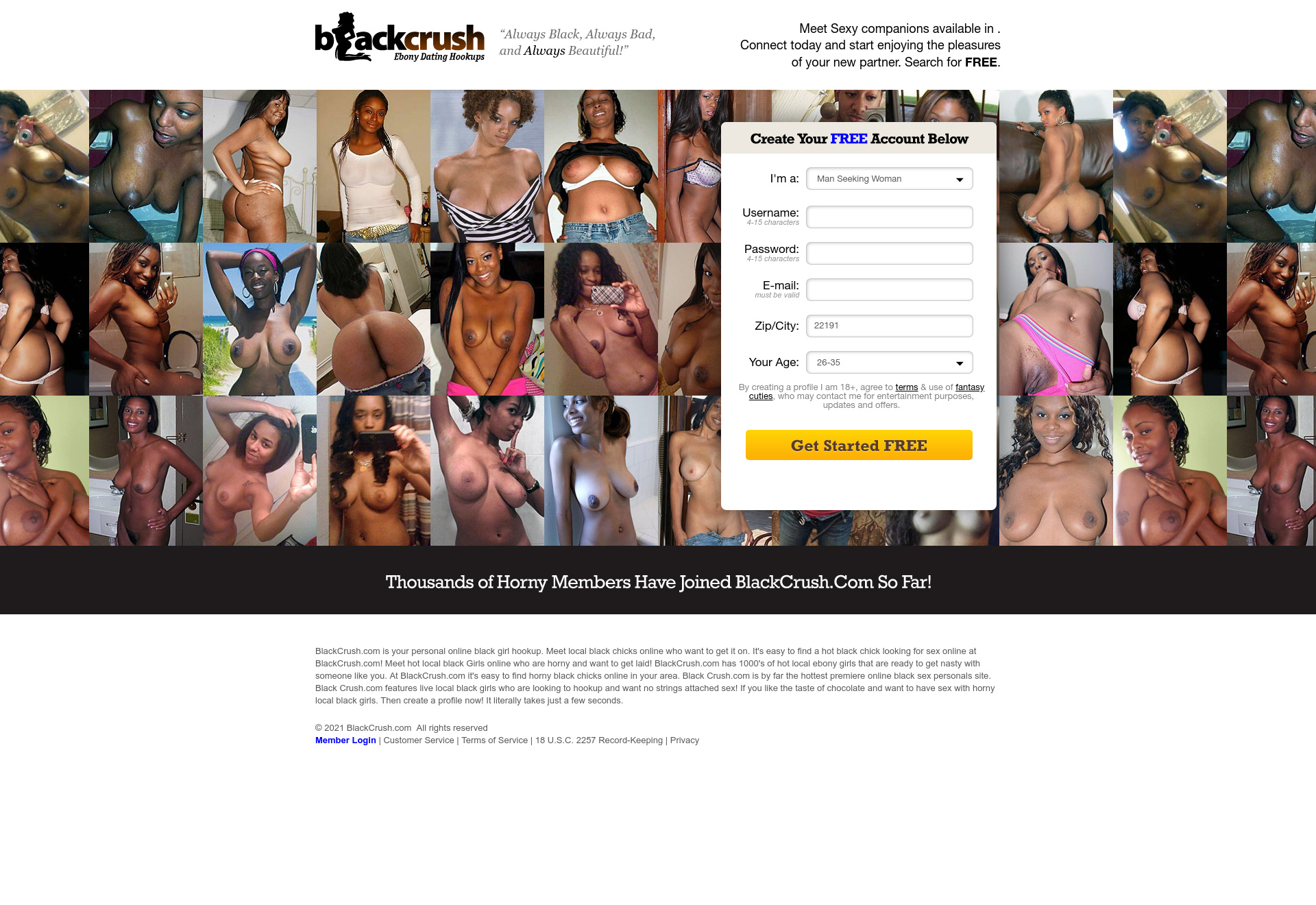 However, but the only niche that BlackCrush caters to is those that like scams. In fact, it's not even a legit sex dating site if you ask me. The site uses the ebony dating angle as a way for them to draw in unsuspecting men to pay high prices for a membership that yields no results. Read my review below and find out what to expect.
A Summary of What BlackCrush Does To Scam Users
If you want to get a good idea of how BlackCrush scams you, all you have to do is check out their terms of service before you decide to sign up. Right there on the main page, above the word "next" you will see a term called "fantasy cuties."
🔴This refers to the fake profiles they use to scam you into thinking that you are contacting real women when they are actually either computer-generated or work for the site. All scam sex sites have these types of practices and many of them let you know in their fine print.
🔴This is to cover themselves when they get complaints. They realize that most men sign in without reading the terms of service, so they give it a unique name and assume you won't realize it's a scam.
🔴I signed up for a trial membership on this ebony dating network and you would not believe the run-around I got from the women on this site. I think there may have been one or two real girls in there, but I determined that they must have worked for the site.
🔴It seemed like they were stringing me along trying to make me think I was leading to a hookup, but all the messages with these beautiful black women never seemed to lead anywhere and they were almost stalling.
Fake Messaging On BlackCrush.com
BlackCrush.com may claim to be free to use, but they use the same old trick as most scam sites. You start using it for free and suddenly you start receiving e-mail and chat messages from gorgeous women who want to interact with you.
🔴 Of course, you have to pay for a membership to talk to these women. After paying for the trial membership, most of the women who originally wrote me suddenly were not interested anymore. All I got was another barrage of fake messages that are designed to string you along.
🔴 The real women had me fooled for a second, but they would wait a long time between messages and not elaborate on the things I said. They really avoided talking about a phone conversation too.
Phone Conversations
I brought up phone conversation a few times and the couple of ladies I was talking to would just change the subject. Why would horny women who are super flirty avoid phone conversation? It's because they were employees of the site.
High Recurring Cost Of Joining
Beware that, even if you purchase the $8.90 3-day trial membership, your account will be automatically charged a full month after the 3 days. If you pay by the month it's $29.95 which will come out every month until you cancel.
🔴 They have special Gold memberships available as well. $49.90 for 2 months plus 1 month free or $59.95 for 3 months plus 3 months free. I would stick with a month at the most. That should be enough time for you to see that BlackCrush is a scam.
🔴 I'll have it be known that I'm all for paying for a dating membership. In fact, I prefer to join a paysite versus a free dating site because they work better based on my personal experience.
First Date
The only gorgeous black women you will be meeting at BlackCrush.com are the webcam models and you will only meet them through webcam.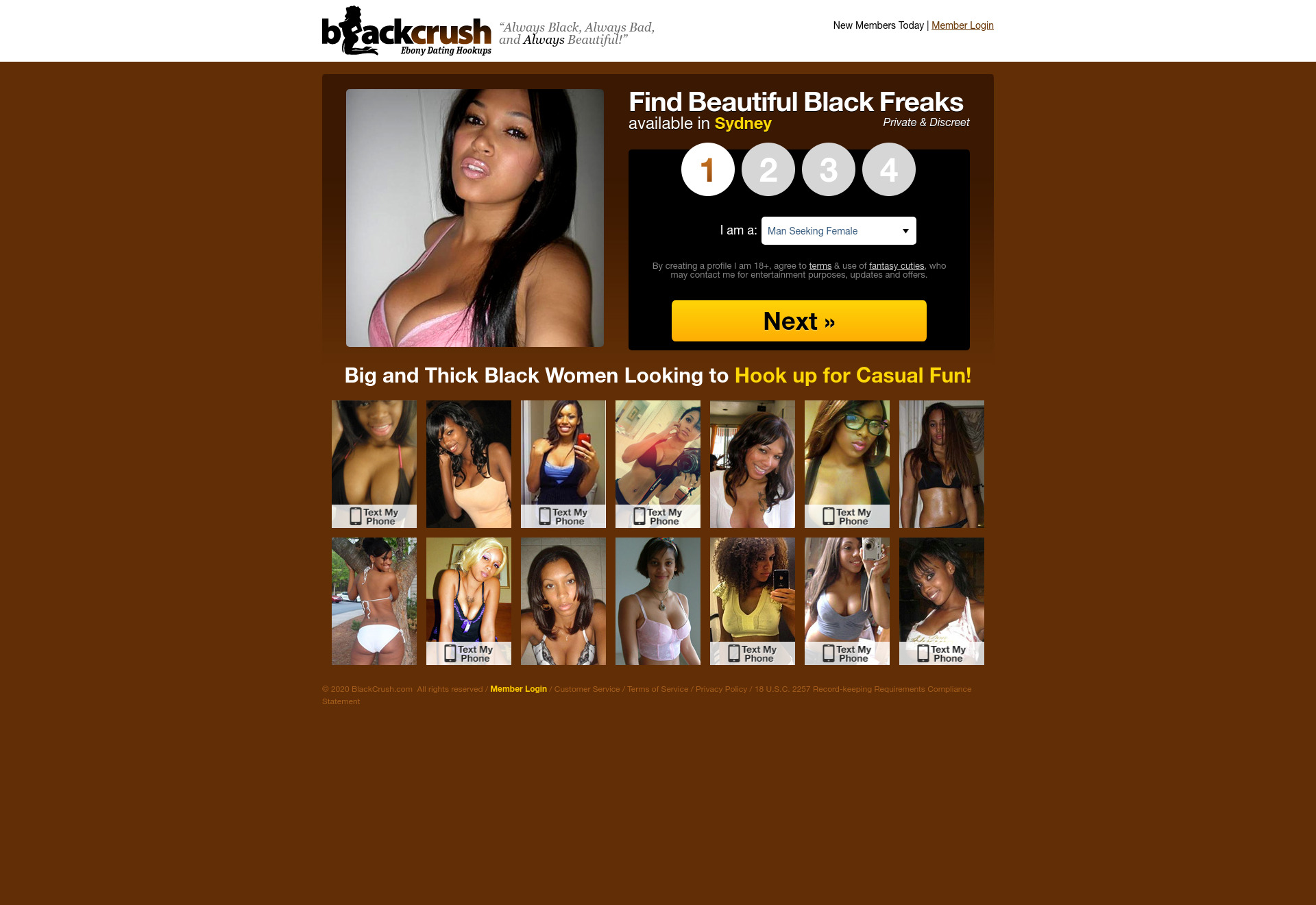 🔴 These women are paid by the site to provide extra entertainment to keep members interested. If you are going to pay for a niche dating site just to watch webcam models, why not just pay for a membership to a webcam site?
Conclusion: Avoid BlackCrush Because You Will Not Get Laid Using This Site
How do credits work on Royal Cams?
There is some decent XXX ebony stuff going in at BlackCrush.com, but it's not going to happen to you. You are just a simple observer on this site and that's it. That is not enough to be worth the high price of membership.
A dating site where the only real ladies are paid webcam models is not my idea of a great hookup site. Leave this site alone unless you just want to get rid of some money. It's better spent on either a real hookup site or a full-on porn site.
Are There Black Dating Sites That Work?
Hell yes, there are! I've joined a few black dating sites in my day that I've had a tremendous amount of success joining. One particular site comes to mind which I've spent time using in order to fuck a few local black women. Try this ebony sex dating site instead…